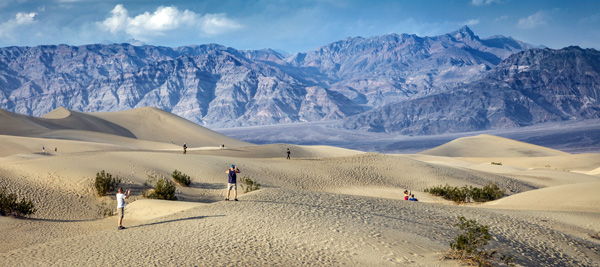 The Mojave Project
is an experimental transmedia documentary and curatorial project led by Kim Stringfellow, exploring the physical, geological and cultural landscape of the Mojave Desert. The Mojave Project reconsiders and establishes multiple ways in which to interpret this unique and complex landscape, through association and connection of seemingly unrelated sites, themes, and subjects thus creating a speculative and immersive experience for its audience.
The Mojave Project
explores the following themes: Desert as Wasteland, Geological Time vs. Human Time, Sacrifice and Exploitation, Danger and Consequence, Space and Perception, Mobility and Movement, Desert as Staging Ground, Transformation and Reinvention.
The Mojave Project
materializes over time through deep research and direct field inquiry involving interviews, reportage and personal journaling supported with still photography, audio and video documentation.
Field Dispatches
are shared throughout the production period at
our website
and through our publishing partner
KCET Artbound
. Installments include those of notable guest contributors. A program of public field trip experiences and satellite events explore the diverse communities and sites of the Mojave Desert. The initial phase of the project is designed to make ongoing research transparent, inviting the audience into the conversation as the project develops. Ultimately, this project is an attempt to create a comprehensive transmedia repository of knowledge relating to the contemporary Mojave Desert.

The Mojave Project is a multi-year endeavor that will culminate in a large-scale traveling exhibition and published volume of our field dispatches. We are self-produced and work under no commercial editorial umbrella. In order for us to provide engaged, experimental journalism free to the public, a continuous flow of funding is necessary to support research, development and production of these dispatch installments.

Your tax-deductible donation will directly support our ongoing production expenses and provide stipends for our contributors. Please join us to support The Mojave Project. We welcome any cash donation large or small and offer one-time or recurring secure online payments for your convenience.
Pledge a one-time donation of $250 to receive the Mojave Project Readers, Vol I & II.
The Mojave Project is a project of Fulcrum Arts' Emerge fiscal sponsorship program.
Fulcrum Arts is a 501(c)(3) charitable organization. Donations to
The Mojave Project
are tax deductible to the full extent of the law under Federal ID 95-2540759.
Donations by check should be made out to the "Fulcrum" with the memo line "The Mojave Project" and should be mailed to:
FULCRUM ARTS
495 E. Colorado Blvd.
Pasadena, CA 91105 USA
Donate via Credit Card or eCheck
The Mojave Project FAQ
Is my donation tax deductible?
Yes, we are a fiscally sponsored project of Fulcrum Arts Emerge Program, which is a public 501c3 organization recognized by the IRS. Your donation is tax-deductible to the fullest extent permissible by law.
WeDidIt FAQ
Is my donation and credit card info secure?
Yes, the security and confidentiality of your information is our highest priority. We will not sell, trade or share your personal information with anyone else, nor send donor mailings on behalf of other organizations, and we will only share personal information if you have given us specific permission to do so.
How do I know that my donation was made successfully?
You will receive an emailed receipt immediately after your donation is submitted and your credit card is processed. Your donation will also show up on your bank or card statement within 1-3 business days.
Do I get a receipt?
Yes, a receipt is sent to your email inbox once your donation is processed. Please be sure to keep a copy of your receipt for tax purposes. If you select a recurring donation, you will be sent an individual receipt each period when your donation is processed.
Is my donation private?
We will not share or sell a donor's personal information with anyone else, nor send donor mailings on behalf of other organizations.